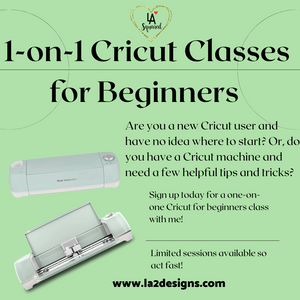 Cricut for beginners 30-minute 1:1 session
This is a 30-minute one-on-one class for beginners.  We will go over your specific basic needs with Criciut Design Space and features.
To schedule a class, click here. 
Sessions are non-refundable. Please be sure to provide a correct email address in order to receive a confirmation email with your selected time and date as well as log-on information for the session. If you schedule a session and are unable to attend due to unforeseen circumstances, then I will do my best at rescheduling you for a time and date that fits our schedules. If you have any questions, please email me at info@la2designs.com.