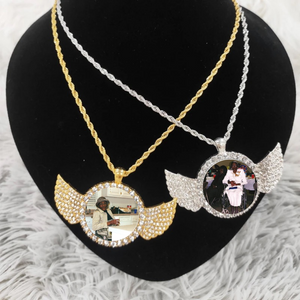 Customized Angel Wing Necklace
This Angel wing necklace trim in rhinestones is a great piece to keep your loved one with you where ever you go. 


Available in gold and silver.
**IMPORTANT NOTE**
Please email image(s) to info@la2designs.com upon checkout.
Wow!!!
I brought the gold winged necklace and had my mother in law photo in it. She passed away. My husband loved it. The necklace was the perfect size. Monica was very professional and prompt. It was packaged nice as well I have been bragging about it.