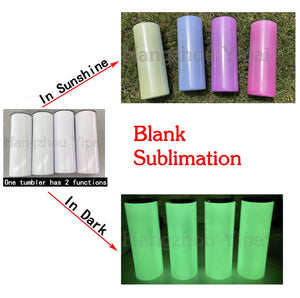 20 oz Sublimation Skinny Straight Tumbler- UV Color Changing & Glow In The Dark
Look no further! Get the coolest new 20 oz white sublimation straight tumbler blank that not only changes colors when exposed to UV rays but it also glows in the dark to a vibrant green. 
Tumbler includes metal straw, rubber bottom, and shrink wrap
The condition of the tumbler boxes are not guaranteed as items may shift during transit. If tumbler boxes are needed, we recommend our holographic display boxes here. 
Available colors:
Green, Blue, Purple, Pink
**FOR CRAFTERS ONLY** 
Great Buy
Great quality, I love the colors.